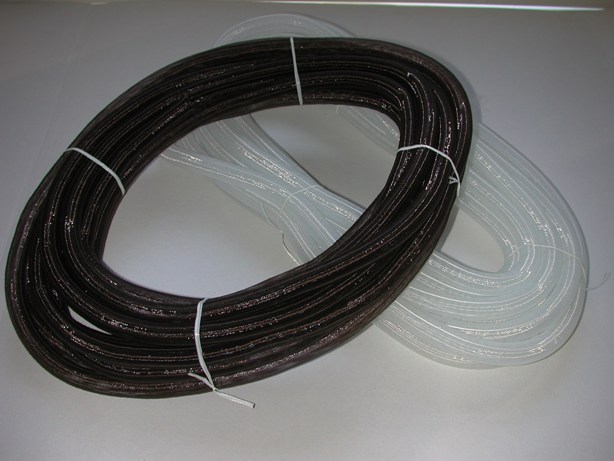 Coarse horsehair tubulars are about 50% stronger than the fine horsehair tubulars and are used for hats, clothes and theater costumes.
They are reinforced with threads (cotton or polyesteryarn). In this way they get a good stability and remain good to work with.
Only article 89023, diameter 12 mm, is made without threads and becomes elastic and ribbed.
Our product range includes 8 articles and 3 colours.
| | | | | |
| --- | --- | --- | --- | --- |
| article | diameter | length | | threads |
| | | | | |
| 89222 | 8,5 mm | 25 m | 27 yds | 4 |
| 89023 | 12,0 mm | 25 m | 27 yds | 0 |
| 89019 | 13,5 mm | 10 m | 11 yds | 8 |
| 89071 | 17,0 mm | 10 m | 11 yds | 8 |
| 89149 | 20,0 mm | 10 m | 11 yds | 8 |
| 89549 | 20,0 mm | 10 m | 11 yds | 2 |
| 89020 | 25,0 mm | 10 m | 11 yds | 8 |
| 89021 | 32,0 mm | 10 m | 11 yds | 8 |
| | |
| --- | --- |
| | |
| Article 89222 3/8", 27 yds black | Article 89023 1/2", 27 yds white |
| | |
| Article 89019 1/2", 11 yds white | Article 89071 5/8", 11 yds black |
| | |
| Article 89149 4/5", 11 yds black | Article 89549 4/5", 11 yds white |
| | |
| Article 89020 1", 11 yds black | Article 89021 1 1/4", 11 yds black |
white
offwhite
black
grey*
* while stocks